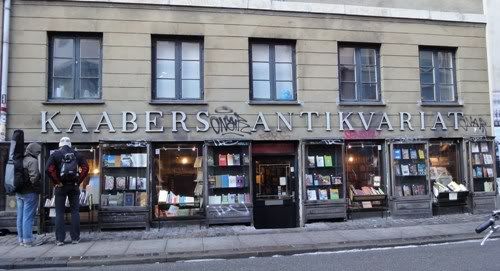 It looks quite grim, but it's nicer on the inside!
Open: weekdays 10-17, Saturdays 10-14 and Sundays...I don't know. never been there on Sundays.
Address: Skindergade 34, København K (this street runs parallel with the famous Strøget shopping street)
Website:
http://www.antiquabooks.dk
This store focuses mainly on antique books - of all sorts (but they do have a rather large history section). I have seen there books from 1700 and 1800, plays, novels, history books, etc. The books are mainly in Danish, but there is also a large section with English books and even German. There is also a large selection of antique maps and portraits.
The prices vary depending on rarity - in a showcase there is an old translation (Danish) of Shakespeare's "Troilus and Cressida" that was only printed in 250 copies...and as guessed, it is very expensive. On the other hand, you can also get some books for just 10 danish kroners (~1,3€).