Rathauspassage unter dem Rathausmarkt
Postfach 11 34 16
20434 Hamburg
Germany
http://www.rathauspassage.de
In front of Hamburgs townhall is a large square, the Rathausmarkt, often populated by tourists, locals and whatever special event is currently going on. Underneath, it gets even more interesting. Take the stairs to the underground (on the right side of the building (near
Bucerius Kunst Forum
), or if you come by train exit
Jungfernstieg
station (lines S1, S3, U1)and follow the signs towards
Rathausmarkt/Reesendamm
. You will find a small restaurant, a fair trade & secondhand clothing shop, a public restroom, a kiosk and a tourist information but most importantly: the used book store.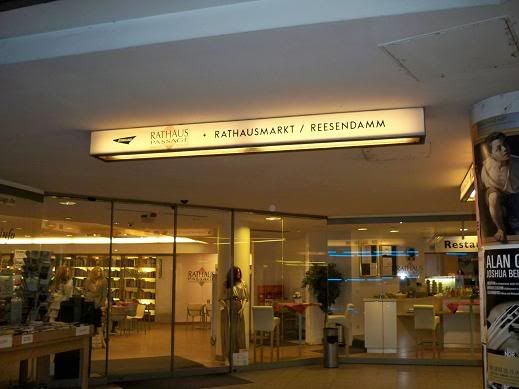 All the books are donations, all profit they make goes into charity work to help poor and homeless people. You can find novels and coffeetable books, comics and travelguides and anything else someone was willing to part with. Mostly German language, but I have seen a lot of books in English, some in French and Russian as well. Get a cup of fairly traded coffee at the restaurant counter, sit down at a table near the long shelf and look what treasures you can discover! Don't forget to pick up a free citymap and some of the brochures for events and exhibitions when you pay for your new friends at the counter of the tourist information. They have tips for every taste and can even help you rent a bicycle if you wish.
My favourite part however, is the bargain table in front of the door. Each book there has been discounted to €0,50 and I usually end up taking some home every time I stop by.