Address: Scheelegatan something, Stockholm, Sweden.
It's located on the corner of Scheelegatan and Kungsholmsgatan, next to Rådhuset (the city hall). Access from the metro is easy, get off at T Rådhuset and take the exit to Kungsholmsgatan and turn left. It's also just round the corner from City Hostel where I stayed.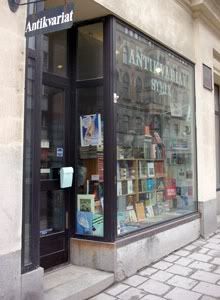 Opens at 12 and I believe it's closed on sundays? not sure. They take only cash, but if you have none, they're nice and will hold the books for you while you run for the nearest cash machine.
Not the biggest place I've seen, but they have ceiling high shelves <3 and many many sections, non-fiction and fiction. Literature in other languages than Swedish is available, but can be hard to find. Nice findings in there, though! And it's cheap, if the book isn't rare or anything.